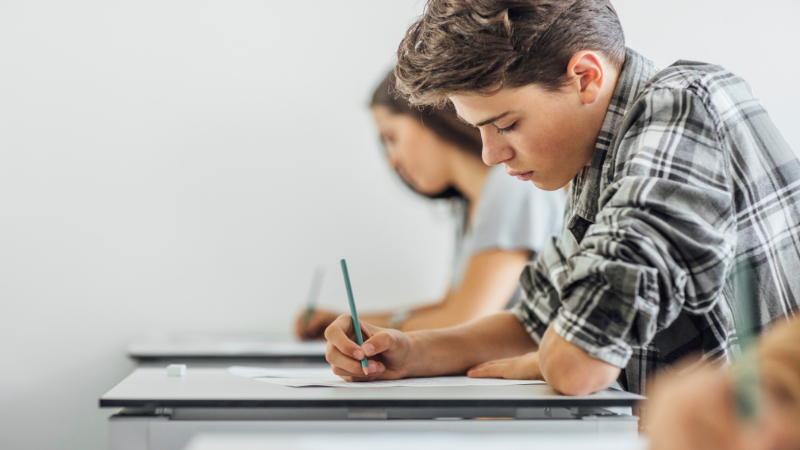 The schools on your college shortlist should be well-considered and thoughtful choices. Trim your college list is the final step in the SMART college list building process.
This is SMART, a 5 part step-by-step process for Building Your College List:

1. Start Big! Your initial list should be expansive.
2. Measure your level of interest in the schools on your list.
3. Assess your acceptance likelihood and affordability for each school.
4. Research the remaining colleges on your list.
5. Trim your college list by the beginning of senior year.

You can create and track your college list with our free downloadable spreadsheet.

---
Twenty Colleges at Most
You started with a big list of colleges and now you need to narrow down your choices. By the beginning of your senior year, you should trim your college list to no more than 20 schools. You can continue to cut schools based on the research you've done on a college, campus visits (virtual tours count too), counselor recommendations, your level of interest, and other factors.
Balance by Acceptance and Affordability
ACCEPTANCE
At least 30% of the schools on your list should be SAFETY schools. It makes good sense that these schools are also ones you've labeled 'affordable.' All of these schools should be ones you'd be excited to attend.
Another 40% of the schools on your list should be TARGET schools. Make sure you have a strong chance of getting merit aid from any of these schools you've given the financial fit label 'stretch' or 'painful.'
The other 30% of the schools on your list can be REACH schools. You can see if your academic stats qualify you for merit aid at a particular school by searching it at MeritMore. You can also find your strongest merit aid matches and average amounts of merit aid awards here.
Pro tip: Ivy League schools do not award merit aid. These schools advertise themselves as 'need-blind,' which means your admission decision won't be affected by your financial situation.
AFFORDABILITY
We recommend this affordability breakdown for the schools on your college list:
70% affordable
20% stretch
10% painful
Make sure you keep at least 2 safety/affordable schools and 2 target/affordable schools on your list at all times.
Pro tip: Organize colleges, keep track of details and see a visual breakdown of both your acceptance likelihood and affordability balance with MeritMore's free college list spreadsheet.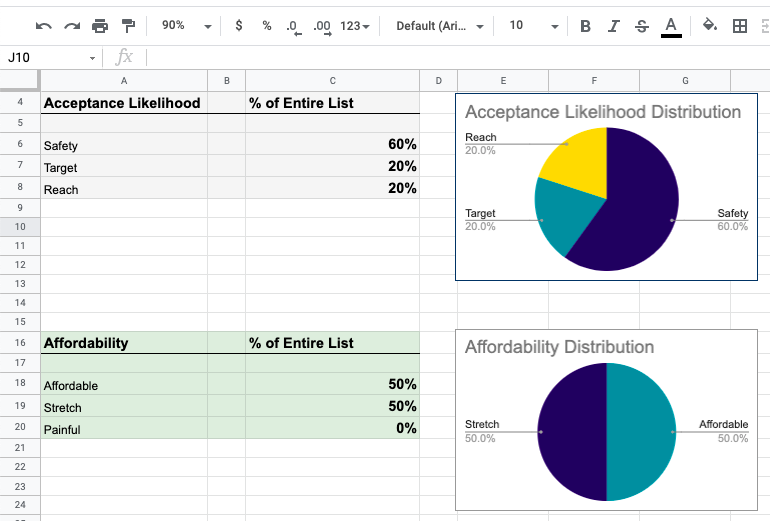 More Offer Letters are Better for Financial Aid Appeals
Once offer letters start coming in, it's time to think about the financial aid appeals process. The more offer letters you have, the better your ability to leverage one financial aid package against another. MeritMore has a free Compare Offers and Appeal Letter tool for all families.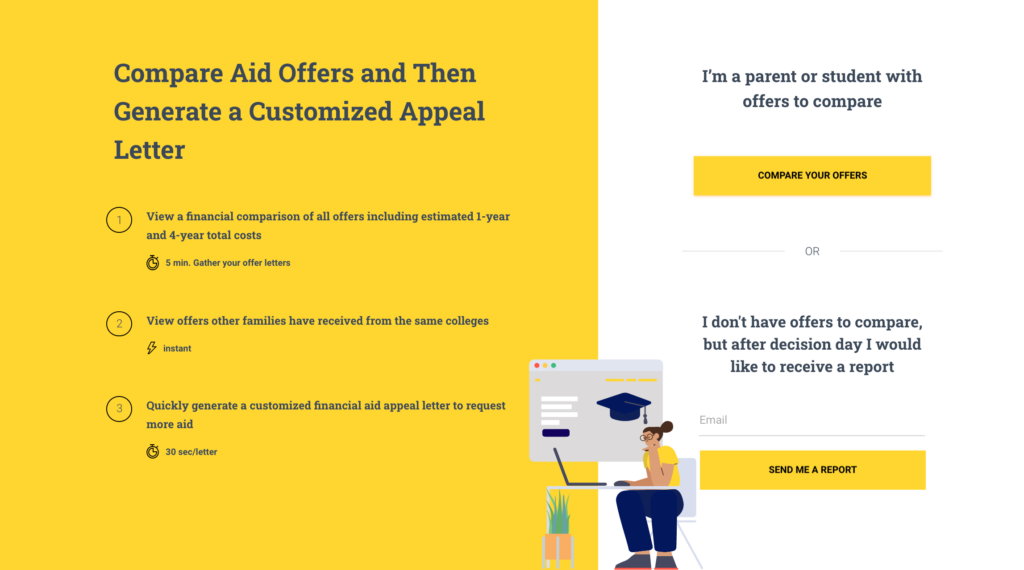 Pro tip: The Common App allows you to apply to as many as 20 schools. You can also apply to non-Common App colleges including schools in the California public system, Georgetown, Ohio State, and colleges abroad. Find all the schools with no application fees here.