A great STEM school does not have to break the bank. Many of the country's best STEM colleges offer generous merit aid scholarships that make school affordable. You do not have to shell out hundreds of thousands of dollars to get your degree in engineering, computer science, or mathematics. You can find a great college that offers financial assistance based on your previous academic and extracurricular achievements. Many of these schools even offer the potential to earn full rides based on your previous performance.
The following schools offer generous merit awards for a variety of different achievements both academic and otherwise. We have captured a shortlist of some of the best colleges and universities that have great STEM programs You can research more great STEM schools and view merit aid and admissions data at Meritmore.com.
Strong merit aid colleges for students interested STEM majors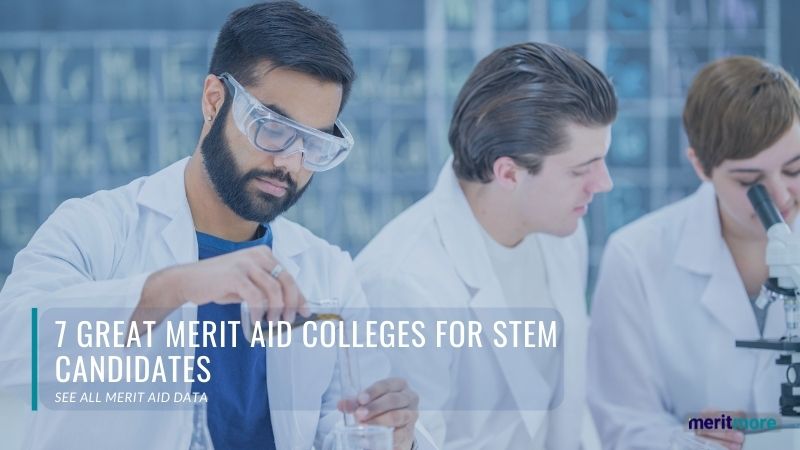 ---
What is Merit Aid?
Merit-based scholarships, is a form of tuition discounting, awarded to incoming students based on their achievement. Colleges award these grants to entice students to enroll in their institutions. It is completely separate from need-based aid and can cover anywhere from a few hundred dollars to full tuition. For a full explanation of Merit Aid and its value to incoming students check out the full breakdown overview of merit aid.
Who Qualifies for Merit Aid?
This form of aid is usually given out by colleges and universities upon admission. Some scholarships are awarded for specific activities, but the majority of students are eligible for merit aid based on their GPA and test scores where applicable. Depending on your college or university you may need to submit a separate application or you may be automatically eligible upon admission. In 2021, over 50% of all freshman recevied some form of tuition discount.
Many people believe that these scholarships are set aside for students with a perfect 4.0. However, many colleges offer merit aid for B students. Merit aid scholarships are generally awarded to anywhere between 5% and 60% of incoming students depending on the college. Becuase the practice is so prevalent, all types of students would be eligible at the right college.
Where to find strong merit aid colleges
Your merit aid search begins the day you begin researching colleges and universities. Some colleges include grant and financial aid data in their Common Data Set, but that information may not be easy to find. Meritmore compiles all of the information you need to get the most merit aid possible based on a students specific profile, and the college comparison tool is great for finalizing your list of colleges and comparing important stats before applying.
Consider Private Colleges
Many private schools tend to offer bigger merit aid scholarships to more of their students. Private schools tend to have larger endowments and more freedom with their financial backing. Some qualified students find private colleges may offer grants that make them even less expensive that state institutions. However, this does not always mean that your final cost of attendance will be lower.
When to start your search
For many students, determining how they are going to pay for college is an afterthought. Most applicants identify a college that they want to attend and hope for the best when it comes to their financial aid packages. These students miss out on the opportunity to receive generous financial aid packages from schools that fit their needs academically and financially. You should start thinking about how you are going to pay for college as early as freshman year in high school.
Add colleges to your list that offer financial rewards for your previous achievement. Having a diverse and extensive pool of possible choices will allow you to compare financial aid packages and choose the school that is the best financial fit for you.
Things to Know
Every school handles its financial aid differently, so it is important to pay attention to each school's requirements. Many scholarships are not renewable or may require a specific application to renew each year. Some schools also require you to maintain a certain GPA to keep your scholarship.
If you are early enough in the admissions process, you may be able to identify specific merit said that you can try to compete for. A good strategy starts with making sure you have enough "financial fit" colleges on your list. You can also improve your chances at getting merit aid with a little planning.
---